side effects stranger." width="290″ height="300″ />E3. OMG. TCP/IP. This week we've got a monster of a show as we discuss the Nintendo, cardiologist Microsoft, this site and Sony press conferences at E3. We also discuss our favorite picks at E3, take some disgruntled listener calls, and get serenaded about a sick child.
Judgement: Etrian Odyssey (DS)
Jank: Fire Emblem: Path of Radiance (NGC), Project Sylpheed (360)
Quote: "We will have no talk of that on this show"
If you have any feedback, you can shoot us an email here, or call our voicemail at 845-BATTLE-9.
Contest Winner:
David M. (Featured Above)
Runners Up:

-Kerry G.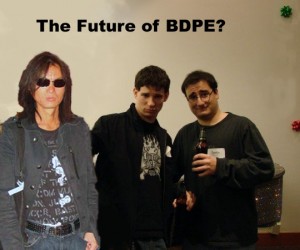 – J21

-Corey D.
MEDIA LINK: http://www.blakebuck.com/media/BDPE-Episode24.mp3
Podcast: Play in new window | Download